Clean Milk Production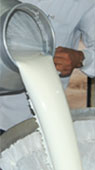 Milk is one food commodity and there can be adverse effect on its quality if proper care is not taken Milk is a raw material, and from this milk, milk products like Ghee, Powder, Butter, Paneer, Curd, Buttermilk, sweets etc is being manufactured. Quality of all products depends on process and raw material. If raw material has good quality, then finished product will have better quality.
Strategy like cleanliness of milch animals, healthy animal, cattle care, personal hygiene of milking person, cleanliness of milking place and cattle-shed, cleanliness of milking vessel and utensils of milk collection at the society, and, responsibility lies with producers for speedy and time bound follow-ups of all activities right from the point of milk production by milch-animals. Whereas responsibility of cleanliness of milk collection point, cleanliness of milk utensils, cleanliness of BCU centre and maintain timely and careful transit of milk to the Union/chilling centre lies with directors of the society. The processing of milk at the Union becomes speedy and easy due to good quality milk, thus quality milk and milk products can be supplied to customers.
Towards achieving highest standards of quality in each link in the value chain many initiatives are taken to include:
Bulk Milk Cooler (BMC) Units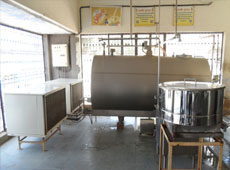 As a part of Dudhsagar's quality movement Bulk Milk Chillers are introduced at primary village co-operative society level. This system has drastically improved the microbiological quality of milk, therefore better return to farmers and good quality of products to consumers. Special training are imparted to dairy co-operative personnel for better management of Bulk Milk Chillers. Under the program of improving bacteriological quality of milk reaching at dairy plant, 758 BMCs are operational at DCS. Presently we are collecting 76% of total milk through BMC. It is the vision of the organization to collect 100% milk in Bulk milk coolers to ensure that the small and marginal farmers are not left aside in this era of stiff competition in the market. The chilled milk procured through Bulk milk coolers helps in improving raw milk quality considerably thereby leading to manufacture of better quality milk products, which is the need of the time, as even local consumers prefer premium quality products.

| Year | 2014-15 | 2015-16 | 2016-17 | 2017-18 | 2018-19 | 2019-20 | 2020-21 | 2021-22 | 2022-23 |
| --- | --- | --- | --- | --- | --- | --- | --- | --- | --- |
| No. of BMC | 745 | 749 | 763 | 765 | 758 | 750 | 737 | 731 | 757 |
Automatic Milk Collection System (AMCS)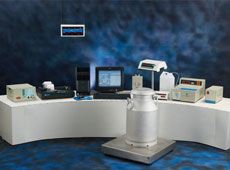 With the decent aim of procuring fresh and clean milk at the society level along with enhancing self-assurance while getting slip showing Milk Fat, SNF, quantity and price of milk supplied by member during milk collection, Automatic Milk Collection Systems are installed at milk societies. A software package for entire accounting procedure of the society having modern facility has been incorporated therein.
| Year | 2014-15 | 2015-16 | 2016-17 | 2017-18 | 2018-19 | 2019-20 | 2020-21 | 2021-22 | 2022-23 |
| --- | --- | --- | --- | --- | --- | --- | --- | --- | --- |
| No. of AMCs | 1419 | 1504 | 1548 | 1598 | 1598 | 1548 | 1598 | 1598 | 1598 |
ISO Certification
Dudhsagar dairy is committed to produce safe food of excellent quality to achieve total customer satisfaction & improve the quality of life of its member milk producers. In connection to commitment regarding quality of product we have implemented ISO 9001:2015 at grass route level. Total 500 Primary Milk Societies have been accredited with ISO 9001: 2015 certification. This has been possible because of Dudhsagar's continued commitment to offer consumers excellent products.
The focus on health and hygiene, housekeeping, village chilling units, management of village co-operative societies, rapid transportation of raw milk to dairy plant, accelerated milk handling at the dairy reception dock has retained the freshness of milk being received at dairy plant. To sustain and rebuild on this effort, training programmes are organized for all the stakeholder groups involved in the 'milk procurement chain', namely, milk producers, village society personnel and dairy plant personnel. Laboratories are equipped with state of the art equipments and well trained professionals.
In order to grant encouraging zeal to Clean Milk production based on the bacterial count of milk from Bulk Milk Cooler Units, Union has started paying 05 paisa per liter for milk having bacterial count less than '05 lacs ; 3 paisa per liter for milk having bacterial count '05 to 10 lacs and 2 paisa per liter for milk having bacterial count '>10 to <15 lakhs'.
| Year | No. of Society | Incentive Provided (In Rs.) |
| --- | --- | --- |
| 2014-15 | 460 | 3772157 |
| 2015-16 | 522 | 4005381 |
| 2016-17 | 309 | 2857738 |
| 2017-18 | 475 | 3228249 |
| 2018-19 | 511 | 4308832 |
| 2019-20 | 480 | 1383157 |
| 2020-21 | 436 | 1337312 |
| 2021-22 | 453 | 1532567 |
| 2022-23 | 435 | 1084476 |