Animal Breeding Department
Animal Breeding Department of Dudhsagar Dairy entrusted with responsibility of Animal Breeding with aim of increasing milk productivity of dairy animals in Mehsana Milkshed area.
Milk production potential of animals inherited from parents as chromosomes / DNA. In the process of inheritance Dam and Sire both plays equal role to decide genetic makeup of offspring. Dairy Animal Breeding is a science to ensure progressive improvement in genetic makeup for milk production of dairy animals' generation after generation.
Mehsana Buffalo Progeny Testing Project
Mehsana buffalo, Kankrej & Crossbred cattle are important breeds of dairy animals in the Mehsana Milkshed area. Dudhsagar Dairy Mehsana recognizes importance of breeding since beginning and in 1976 established its own Semen station for extensive use of elite Bulls both for Cattle & Buffalo through Artificial Insemination.
Dudhsagar dairy was first Cooperative in nation to implement systematic Field Progeny Testing Program for improvement of Mehsana Buffalo since 1985 under technical guidance of NDDB, Anand. Extensive use of semen from High Genetic Merit Bull produced by nominated matting using semen of proven Mehsana Buffalo bulls along with improved management practices resulted in positive change in economic characters of Mehsana buffalo as under
| | | | |
| --- | --- | --- | --- |
| Sr. No | Criteria | 1985 Status | 2020-21 Status |
| 1 | Average First Lactation Milk Yield (FLMY 305 Day) (Kg) | 1500 | 1925.1 |
| 2 | Average Age at First Calving (Months) | 56.2 | 45.7 |
| 3 | Average Calving Interval (Months) | 19.2 | 15.8 |
Till Mar 2021, total of 253 Mehsana Buffalo bulls in 20 successive batches have been put under testing. Since inception, 104924 Mehsana buffaloes have been identified and covered under the program. A total of 464922 Artificial Inseminations were performed and 43349 PT daughters have born in the project area. Sires are evaluated on the basis of 305 days first lactation milk yield of daughters. After evaluation, the semen of top ranked bulls is used for nominated mating program for production of next generation bulls.
Presently our Mehsana Buffalo PT Project runs in 87 villages of Mehsana Milkshed area and is funded under Rastriya Gokul Mission, Government of India. Since 2012 Central Monitoring Unit (CMU) constituted by Government of India evaluates the project annually as per guideline of Department of Animal Husbandry, Dairying and Fisheries, GOI.
Artificial Insemination (AI)
The semen produced in the "A" grade semen station located at Pashu Samvardhan Kendra, Jagudan is utilized by the AI technicians located at various village dairy cooperative societies across our milkshed area.
Artificial Insemination (AI) Network and AI work
| | | | | | | |
| --- | --- | --- | --- | --- | --- | --- |
| Particulars | 2000-01 | 2010-11 | 2017-18 | 2018-19 | 2019-20 | 2020-21 |
| AI Centers | 384 | 646 | 786 | 787 | 792 | 777 |
| Nos. of AI | 342976 | 894439 | 974023 | 1022073 | 971873 | 886422 |
Demography of AI Centers
District
Taluka
Total AIC
Gandhinagar
Kalol
44
Mansa
78
Mahesana
Becharaji
9
Jotana
11
Kadi
46
Kheralu
78
Mahesana
52
Satlasana
65
Unjha
19
Vadnagar
52
Vijapur
83
Visnagar
56
Patan
Chanasma
21
Harij
18
Patan
36
Sami
12
Sarasvati
49
Shankheshwar
3
Siddhapur
45
Milkshed
Grand Total
777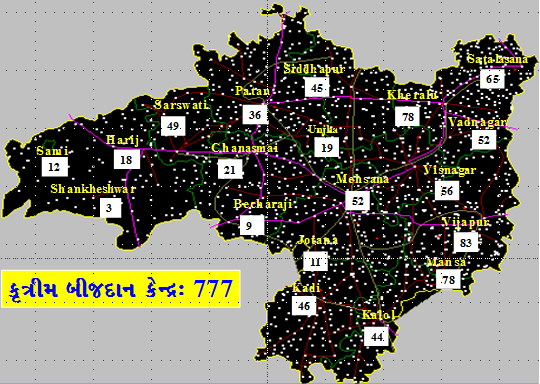 Nominated Matting
Buffalo:
We produce High Genetic Merit Mehsana buffalo bulls through nominated matting of elite female buffaloes (dams) under milk recording in the PT Project with semen of top proven Mehsana Buffalo sire.
Crossbred:
We produced High Genetic Merit (HGM) F1 generation (HF x Kankrej) CBHF bulls through nominated matting of elite Kankrej (dams) cows in milkshed area with semen of proven HF sire (imported). Elite CB Cows also used for nominated matting to produce HGM CBHF Bulls.
Genomics Selection Program
Buffalo :
We are participating in Multi agency Mehsana Buffalo Genomics Project of 5 years. We undertaking performance recording of Mehsana Buffalos like Milk quantity, Milk component, Buffalo typing, Reproductive indices etc.
AI Training Institute
AI Training Institute (AITI) of Mehsana Milk Union is located at Cattle Feed Factory, Jagudan, Mehsana. Our AITI is accredited with "A" grade in 2019 by the Central Monitoring Unit (CMU), Government of India. We are training persons of Village Dairy Cooperative Societies (VDCS) for AI and First Aid as per need of VDCS to expand AI infrastructure and network at grass-root level.